Welcome back Crossroads Kids and Youth!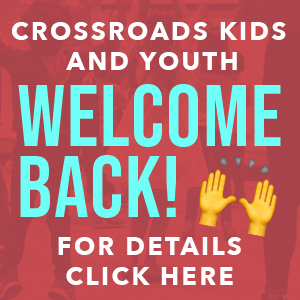 Crossroads Kids are back on our Newburgh Campus!

We encourage you and your family to attend our Weekend Worship Services on campus together as you feel comfortable.


Let us know you'll be here!
Adults and families worshiping together.
Adults, students (Grades 6-12) and children
Parents: You may want to continue worshiping together as a family in our Worship Center and not participate in our Crossroads Kids programming, if so, you can register your entire family below.

RSVP HERE
---
Families with children participating in Crossroads Kids (Nursery-Grade 5) programming.
Parents: You can register yourself and your children on the same RSVP form!
Choose your service time and let us know you'll be here!

9:00 AM - RSVP HERE 11:00 AM - RSVP HERE 5:30 PM - RSVP HERE
These RSVP forms will open each Wednesday, prior to our weekend services, and be available for you to let us know which service time you and your family plan to attend. The form will close when we have reached capacity in our worship spaces.
---
In addition to our weekend services on our Newburgh Campus, we are providing weekly content on the Crossroads Kids TV YouTube Channel for both Preschool and Elementary. You can visit cccgo.com/parentresources to access the weekly activity sheets, tips on worshipping with kids, and other family resources. We recognize gathering with young children can be particularly difficult at home and we are here to partner with you during this time.
If you decide to meet in a group with other families with kids, we have recommendations for your group as well. Please ensure that every adult in your group is on the same page on their comfort level with kids engaging with one another.
For any additional questions or resources you can contact our Newburgh Kids Pastor, Jacob Stewart, or our West Campus Family Ministries Director, Ross Geiser.
---
YTH Gatherings
Crossroads YTH and YTH Middle will begin gathering WEEKLY at our Newburgh Campus!
YTH (Grades 9-12)
We will begin gathering our high school students on Wednesday, January 20. Doors will open at 6:45 PM and service will be from 7:00-8:15 PM. The service will be held in the Newburgh Campus Worship Center, so students will enter through the Main Entrance.
YTH Middle (Grades 6-8)
We are also excited to begin gathering our middle school students beginning Sunday, January 24, during the 9:00 AM service. Doors will open at 8:45 AM. The service will be held in the Newburgh Campus Student Loft, so we will have limited capacity. Students will need to RSVP to attend the YTH Middle service. The RSVP form will be available along with the Weekend Worship Forms on the Wednesday before each Sunday gathering.
We are so excited about the opportunity to gather with our students, and want to ensure the safety of students and families. We ask that families self-screen using the COVID-19 Screen Guidelines as well as review these Regathering Guidelines.
We are so grateful that our YTH students have had the opportunity to continue gathering together in small groups over the past year. We believe that "Groups Are Where We Grow" and we are planning to continue to meet in small groups as we move forward. If you or your student are not connected to a Group, but are interested in joining one, please let us know here.
YTH West (Grades 6-12)
Our West campus YTH are currently meeting on Sundays from 6:00-8:00 PM.

If you have any questions, please feel free to reach out to our Newburgh Family Ministries Pastor, Andrew Bondurant, or our West Campus Family Ministries Director, Ross Geiser.