Serve with us!
Register to serve with us in the Crossroads Kids Nursery or Preschool
During each of our weekend services, our Crossroads Kids classrooms provide much more than child care. Every weekend we teach kids Bible truth!
If you have a heart for children and want to share the love of Jesus with the next generation, consider serving in our weekend Nursery or Preschool Ministry. We are currently seeking volunteers for all service times.* This is a great serving opportunity for families, especially those who have older elementary and teenage children. For more information, please contact Aislin Carter at acarter@cccgo.com or 812-518-1478.
Register to serve with us in the Crossroads Kids Nursery or Preschool during weekend services.
*All Family Ministry volunteers will be given a background check.
---
Father Daughter Dance
See photos here!
Intro to Outreach
Sunday, February 19
10:30 AM-1:00 PM
Room 225

This interactive class is an introduction to making disciples here, near and far away. Intro to Outreach is core discipleship!
Intro to Outreach includes the following foundational topics:
Why the Gospel of Jesus is worth sharing

The importance of Prayer

Information on our global and local ministry efforts and partners
Intro to Outreach is offered quarterly and is a prerequisite for GO Mission Trip participation. Intro to Outreach certificates are valid for three years.
Upcoming Sessions
Please register in advance. Childcare is available.

Sunday, February 19
10:30 AM-1:00 PM
Room 225
*Lunch provided-Suggested donation $5
Please subscribe to our monthly GO e-News to receive updates on upcoming Intro to Outreach sessions.
---
Baby Dedication
February 18 and 19

February 18 and 19
Registration is closed for this event.
If you have questions, contact Alison Bond at 812-518-1424.
---
FriendSpeak
Continues on Mondays


Practice conversational English with members of our team, Monday at 6:30 PM at the Crossroads Newburgh Campus.
We want you to join us.
To register, email your name and phone number to
friendspeak@cccgo.com
or leave a message at 812-858-3080, ext. 678.
---
| | | |
| --- | --- | --- |
| | | Weekend Worship Auditions |
Weekend Worship Auditions
Thank you for your interest in joining the worship team at Crossroads!
We are excited to begin this journey with you. We believe that God is moving in our church and in our city, and we want to do our part by striving to connect everyone to Jesus through authentic and engaging worship. So that…
• Every demographic in the room has the best opportunity to respond.
• Worship is not merely an experience, but becomes a lifestyle that's lived out daily.
• Hearts are ready to receive and respond to God's Word.
• God is glorified by our best, both as a worship ministry and as a church.

We know that the word "auditions" can be daunting or even a little scary. However, we believe that everyone is gifted to serve somewhere. Thank you for your desire to use your gifts to serve the Kingdom alongside us!

Weekend Worship Auditions
February 19/20 and February 26/27
Sunday, February 19, 2:00-9:00 PM
Monday, February 20, 5:00-9:00 PM
Sunday, February 26, 4:00-9:00 PM
Monday, February 27, 5:00-9:00 PM
TO AUDITION
1. Download an Audition Info Sheet
2. Click Here to register and choose an audition time.
3. Download audition resources.
If you have questions, please contact Jane at 812-518-1473.

---
Marriage Mentoring Ministry
Visit us in the Atrium this weekend!
Marriage can be one of life's greatest sources of joy. But it can also be a mysterious undertaking with many ups and downs. Making it work "til death you part" (or just to the end of the week) isn't always easy. That's why we've created marriage mentoring.

One of the most effective ways to grow is to connect your life with someone who is a little further down the road, who has been there, done that and weathered the storms. That's exactly what marriage mentoring is all about.

Marriage mentoring is flexible. We recommend that you meet at least once per month for six months. Think of it as a double-date with a purpose. But once you are paired with a mentoring couple, you can chart your own course and determine a meeting schedule that is most helpful to you.

If you have any questions, contact Ty Wigington. If you are interested in being mentored or being a mentor, click here.
---
Living Proof Live
with Beth Moore and Travis Cottrell
July 21-22, 2017
You won't want to miss this opportunity to join with thousands of women from the Tri-state area and beyond for two days of worship with Travis Cottrell and Bible teaching from one of America's premiere women speakers, Beth Moore.

Beth's teaching offers hope, inspiration and healing to women of all ages.

View Beth's personal invitation here...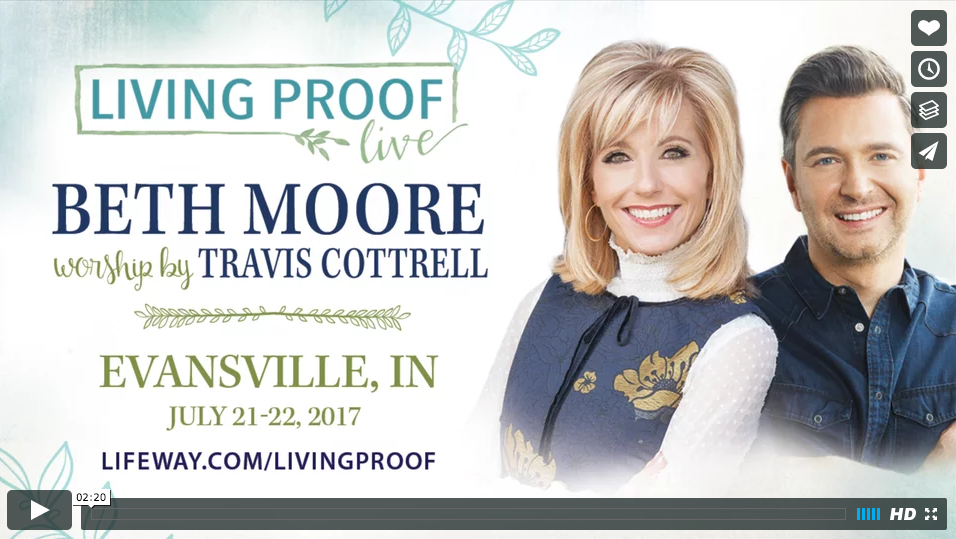 To purchase tickets or to find out how to become involved visit the Living Proof Live Evansville, click here.

Be sure to scroll down the page to join our network so you will receive prayer requests and the latest news about the event. You may also sign up to volunteer and attend our Launch Party for the event on April 20, 2017. This will be a fun night with an opportunity to win a Living Proof Live ticket and hotel package., among other prizes. Plan to come and bring a friend! Tickets will go on sale January 1, 2017, so mark your calendar and be sure to get your tickets early.
---