Women's Wednesday Classes Celebration
If you've been a part of our Wednesday morning classes this year, you are invited to join us for the End of the Year Brunch on April 19 at 9:00 AM in the Chapel at Crossroads Newburgh Campus. Tickets are $12 per person, you need a credit card to complete your registration on line. Child care is available with your registration. Click here to register.
Our Women's Ministry provides many opportunities for women to grow in their faith and to encourage one another.
For more information about the Women's Ministry at Crossroads, please contact Women's Ministry Director Corri Brooks at 812-518-1437.
For information on Ladies studies at Crossroads West Side Ministry Center, Click Here
Support Groups of Interest to Women
Support groups for Women, Mom's and Foster/Adoptive Parenting Groups meet on Monday evenings. Check out the Support Groups page at cccgo.com/supportgroups for more information and to register.
---
Spring 2017
Crossroads offers a variety of short term classes for women of all ages. Studies meet weekly and a variety of topics and in depth bible studies are offered. Advanced Registration is appreciated, it helps us to prepare and plan so that every woman has a great experience.
Childcare is provided for Monday evening and Wednesday morning classes at Crossroads Newburgh campus. Childcare for Wednesday morning classes is limited at this time. Please call Lea at 812-518-1402 to inquire about openings.
Any questions: Call Lea Deisher at 812-518-1402 or email ldeisher@cccgo.com
Click on the class name below to get description of the class and to register.
---
Sunday Mornings
The Gospel of Mark: The Jesus We're Aching For by Lisa Harper
Begins January 15, 2017

Join us for DVD-driven study of the life of Jesus as written by Mark. In The Gospel of Mark, you'll follow Jesus through His days of early ministry to the cross and discover what it means to be the recipients of His overflowing compassion and the very reason for His all-consuming passion. Leaders: Lindsay Compitello and Corri Brooks. This on going ladies class meets on Sunday mornings throughout the year, offering scriptural studies with leaders rotating by semester.
Click here to register You will need the study guide for this class.

Tuesday Mornings
Precept Study: Acts Part 2
9:00 AM Tuesday mornings beginning January 10 in room TR225
The Precept Study of Acts Part 2 will begin on February 7. Ladies are welcome to join at any time. Brenda Mounts leads this class.
Advance registration is requested. When you register a confirmation email will give you the link to purchase your materials directly from Precept ministries. Books will NOT be available in the Resource Center. If you have questions, call Lea at 812.518.1402 or email at ldeisher@cccgo.com.
---
Wednesday Morning
9:00 to 11:00 AM
Winter classes run January 18 thru April 19

Click on the title below to view a description of the study and to register.
Classes listed below are one semester commitments unless otherwise stated.
Topical Studies
The Daniel Plan a study by Rick Warren
First Corinthians a study by Melissa Spoelstra
Entrusted a study by Beth Moore
Esther a study by Beth Moore (this is a 2 semester class)
Faith a Discovery Bible study
God's Love Alive in You a study by Kay Arthur and David Lawson
Just for Moms: Having a Mary Heart in a Martha World, a study by Joanna Weaver
Anointed, Transformed, Redeemed a study by Priscilla Shirer, Beth Moore, and Kay Arthur
Bible Studies
Studies listed below are generally considered to run both semesters, but easy to join any time because no special materials are needed. Bring your own Bible and a note book if you wish.
Mark a bible study
Matthew: Trusting in God's Word a bible study
Women of the Bible a bible study
Girlfriend Groups
Crossroads Knitters
1st & 3rd Saturdays of each month; 10:00 AM-Noon, Crossroads' Cafe
For details contact Ann Blake.
Stamping & Cardmaking Groups
Afternoon Class- 4th Monday of each month beginning August 25; 1:00 PM, Room TR225
For details, contact Anita Vowell.
Daughters in Prayer
Meets the first Sunday of every month at 10:30 AM in Room TR203.
Join this group of praying ladies each month as they gather to pray for our women's ministry, our church, and their own personal prayer concerns. For details, contact Margaret Haire.
Human Trafficking Prayer Group
Meets the second Sunday of every month at 10:10 - 10:40 AM in Room TR203.
Join this group of ladies each month as they gather to pray against human trafficking. For details, contact Margaret Haire.
Women's Mentoring
Interested in being a mentor or having a mentor assigned to you? We are in need of women who desire to share SPIRITUAL companionship with other women in our church body, share your life and help another woman grow in her discipleship journey. Contact Ty Wigington at 812-449-1935 for more information.
Click here to Register
---
Special Events
Living Proof Live with Beth Moore and Travis Cottrell
July 21-22, 2017 - Ford Center

You won't want to miss this opportunity to join with thousands of women from the Tri-state area and beyond for two days of worship with Travis Cottrell and Bible teaching from one of America's premiere women speakers, Beth Moore. Beth's teaching offers hope, inspiration and healing to women of all ages.
Click on the video below to see Beth Moore's person invitation to us!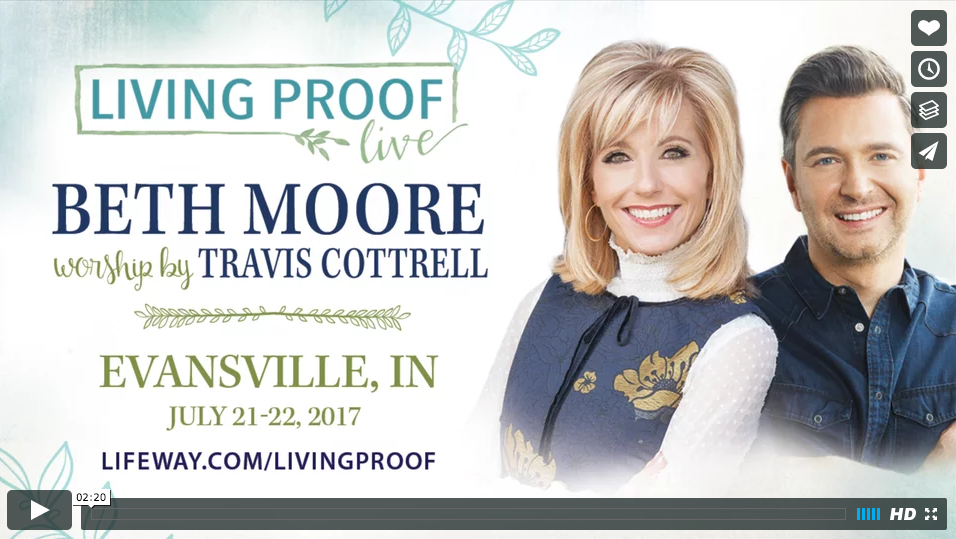 To purchase tickets or to find out how to become involved visit the Living Proof Live Evansville, click here.

Be sure to scroll down the page to join our network so you will receive prayer requests and the latest news about the event. You may also sign up to volunteer and attend our Launch Party for the event on April 20, 2017. This will be a fun night with an opportunity to win a Living Proof Live ticket and hotel package., among other prizes. Plan to come and bring a friend!
Tickets will go on sale December 12, 2016, mark your calendar and be sure to get your tickets early. They may also be purchased at the above link.
SAVE THE DATE!
Plan to attend the You Lead Women's Leadership Conference sponsored by Lifeway in conjunction with Living Proof Live. Click here to find out more about this premiere women's leadership opportunity. Ticket bundle pricing is available if you wish to attend both events. You Lead tickets also go on sale December 12, 2016.