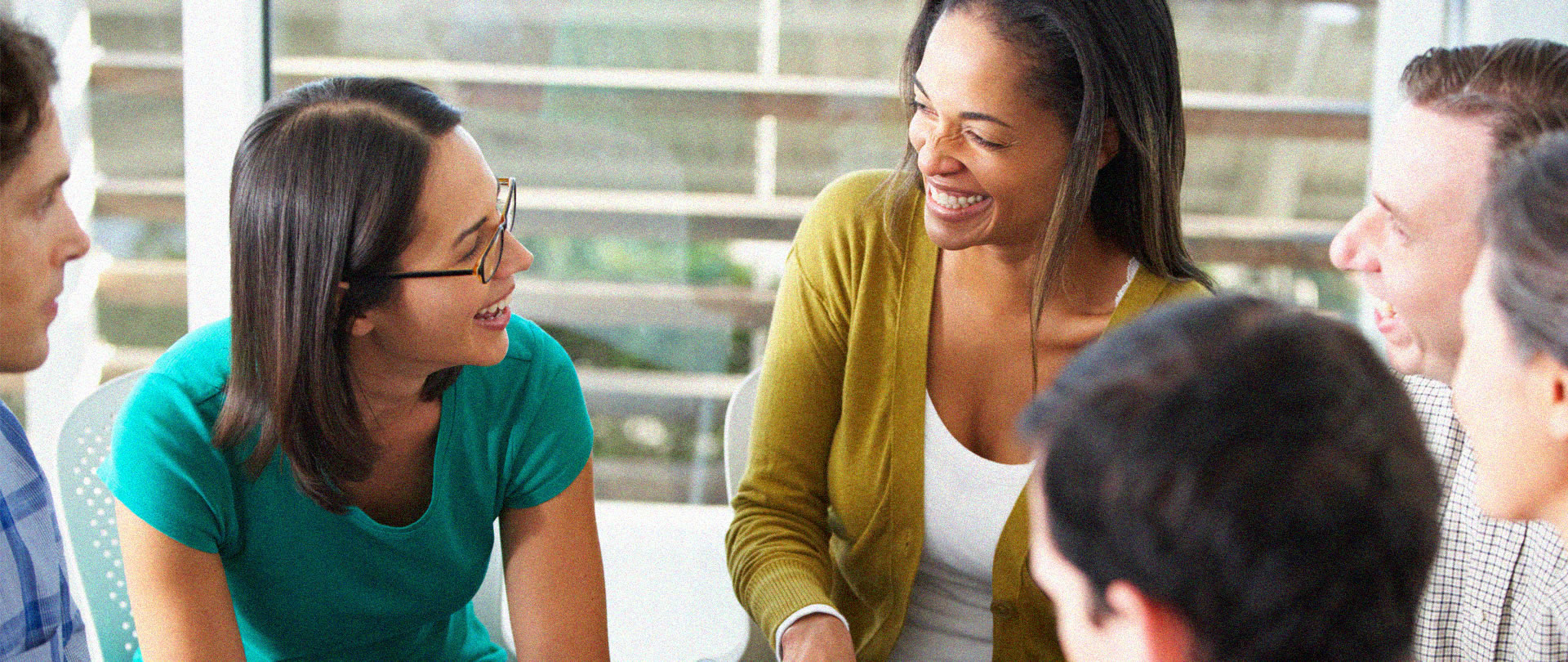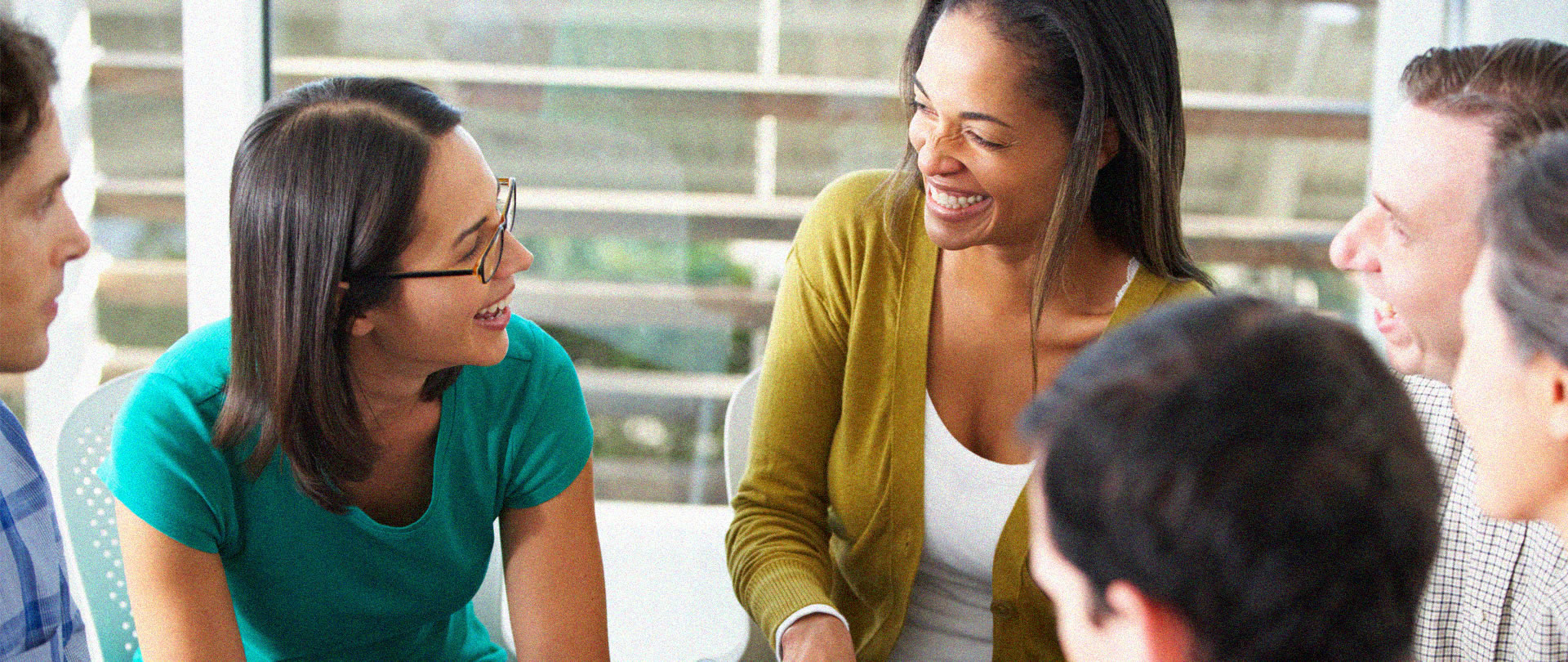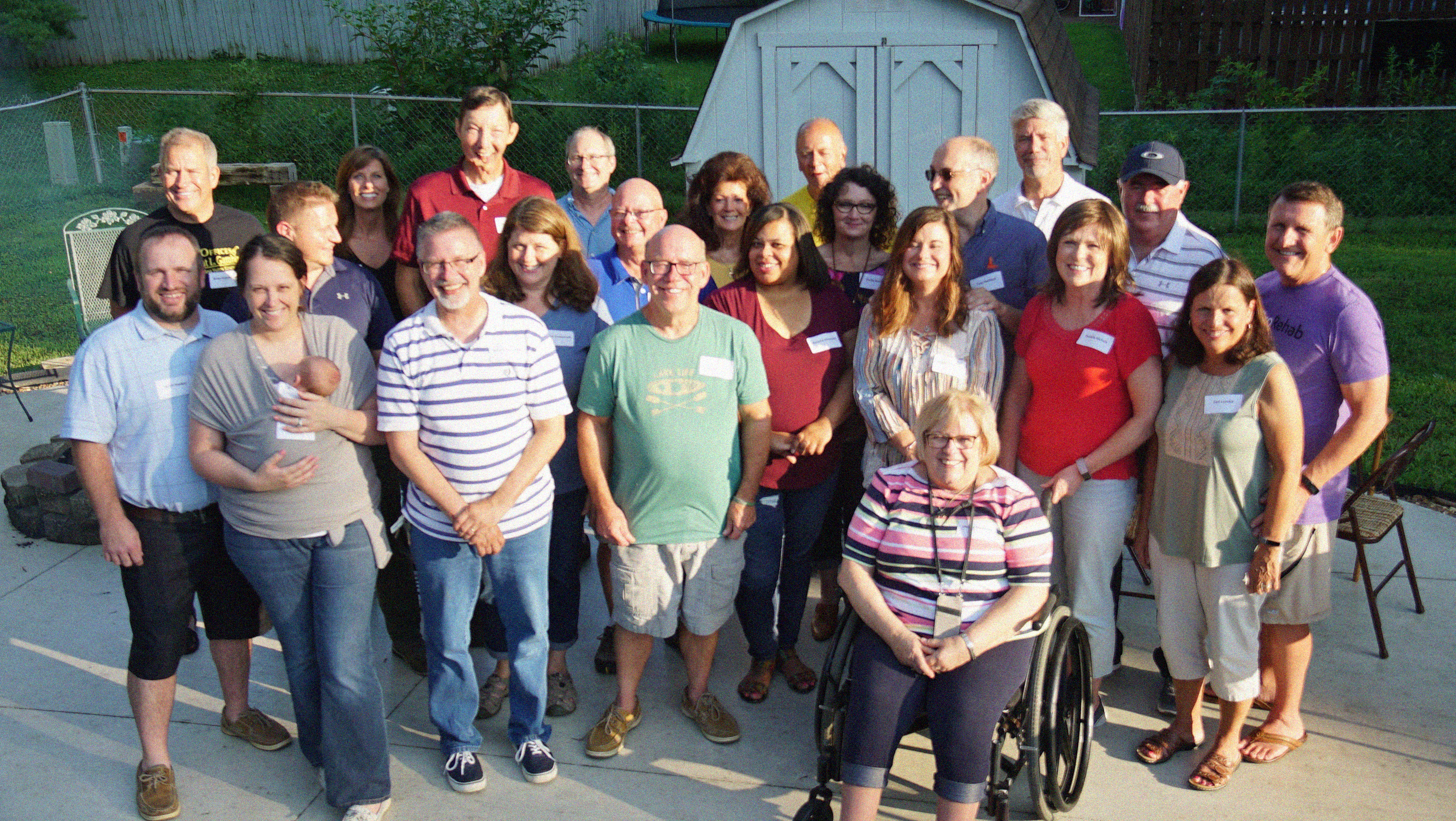 Crossroads support groups meet on Monday evenings to provide practical, real-life solutions in a Christ-centered atmosphere. Find healing and community with others who understand the journey of coming away whole from a broken place. You do not have to be a member of Crossroads to attend. Everyone is welcome!
Monday Evening Agenda
5:30-6:15 PM Meal* ($5 per adult, $2 per child)


*Offered at Newburgh Campus Only

6:15-8:00 PM Childcare (Birth to 6th Grade) Newburgh & West
6:30-8:00 PM Support Groups Newburgh & West
Fall/Winter 2019 Support Groups
All groups meet beginning Monday, September 9-Monday, December 9, 2019 (unless otherwise noted).
+

West Campus Support Groups
Mondays, 6:30-8:00 PM

Crossroads support groups meet on Monday evenings to provide practical, real-life solutions in a Christ-centered atmosphere. Find healing and community with others who understand the journey of coming away whole from a broken place. You do not have to be a member of Crossroads to attend. Everyone is welcome!

West Campus Monday Evening Agenda

6:15-8:00 PM Childcare (Birth to 6th Grade)
6:30-8:00 PM Support Groups

West Campus Groups:

Divorce Care
Find help. Discover hope. Experience healing.

Financial Peace University
Begin to take small financial steps that can free up your budget and start to erase deb

Grief Share
When the loss of a loved one in all consuming; learning to breathe again.

Recovery
Seeking victory over addictions? Recovery is a Christian 12 step series focusing on Jesus Christ.

+

Broken No More
Brokeness can become a launch pad for greatness

"Broken No More" looks at the brokenness in our lives that God uses to transform us. This material will set you on a path to understand brokenness and how God will use it to His glory. Brokenness did not happen overnight and healing from it will not either. This study will provide you with the "baby steps" needed to move on.

The workbook being used for this class, "Between Heartache & Joy," will be available to purchase for $7 on Monday evenings at the Newburgh Campus Connection Center. Sessions begin Monday, September 9, 2019 at 6:30 PM

Facilitator: Perry Johnson

+

Cancer Support
Encouragement on your cancer journey

Cancer Support is a place for cancer patients and their caregivers to share, listen, pray, and encourage one another. Whether newly diagnosed or a long-term survivor, join with a community of support on your cancer journey. The book being used for this is "Breathe Again" How to Live Well When Life Falls Apart by Niki Hardy. Click here to purchase the book. Sessions begin Monday, September 9, 2019 at 6:30 PM

Facilitator: Brian Comstock

ABOUT OUR FACILITATOR:
Hi, my name is Brian Comstock. I am a former elementary school teacher, currently receiving treatment from stage 4 head and neck cancer. I wish to bring hope, encouragement and understanding to those undergoing treatment or in remission, along with their caregivers. I have attended Crossroads for 24 years with my wife Allison, and have two grown children: Andrew and Meredith.

+

Divorce Care
Find help. Discover Hope. Experience Healing.

Need help, healing or hope from the hurt you have experienced due to separation and divorce? A caring group of people, who will walk with you through one of life's most difficult experiences, will help you face those challenges and rebuild your life. Each session has two distinct elements: Seminar of Experts and group discussion. Material for this class will be available at the Connection Center when the session begins. The cost for the workbook is $15. Sessions begin Monday, September 9, 2019 at 6:30 PM

Facilitators: Tom Hatfield, Melissa Daugherty

Register

ABOUT OUR FACILITATOR:


+

Emotional Well Being
Facing Challenges in Life

There is an undeniable connection between the mind, and your moods and attitudes. How can we retrain ourselves to respond in a healthy manner when faced with challenges in life?

We will explore scriptural insights and other practical ways to think with purpose, gain greater confidence over our moods and reclaim the joyful life you were meant to lead. Plan to be challenged as we explore different techniques to manage our moods so that they don't manage us.

The book being used for this group is "The Mind Connection" by Joyce Meyer. This book will be available for purchase at the Connection Center Monday, September 9th for $10.

Sessions begin Monday, September 9, 2019 at 6:30 PM

Facilitator: Alice Pirola

Co-Facilitator: Kent Kunce

ABOUT OUR FACILITATOR:
Hi, my name is Alice Pirola. My husband Joe and I moved here from Florida last May. I chose to become an advocate for the mentally ill, as I have suffered from various disorders my whole life. I felt God's leading to enter into this arena, of advocating, on behalf of the mentally ill 2 years ago. I am very passionate with regard to this calling, and plan to spend the remainder of my life lending my voice to this cause.

+

Financial Peace University
Begin to take small financial steps that can free up your budget and start to erase debt.


This Dave Ramsey series is life changing. It will teach you to achieve your financial goals by eliminating debt, saving for the future, and giving. This 10-week DVD series lead by financial expert Dave Ramsey uses humor, financial advice, Bible teaching, and small group discussion.

Newburgh Campus Facilitatos: Shawn Hayden, Blake Williams and Denny Majeres

This course has a $95 fee for the course material, that can be purchased the first night of class. Payment options are also available. Please contact Michelle at 812-518-1433.
Once you have completed or during your FPU sessions, there are a couple, no cost to you follow up options.

1. Denny Majeres, an FPU coach is available for questions and guidance.

2. Crossroads Counseling Center offers Financial Coaching by two certified CPAs with one-on-one appointments. Email Laurie or call 812-518-1490 for more details.

Sessions begin Monday, September 9, 2019 at 6:30 PM

ABOUT OUR FACILITATOR:
Hello, my name is Shawn Hayden, and I am a long-standing Facilitator for the Financial Peace University class held at Crossroad's Newburgh campus. I also have been the General Manager of Eastland Mall for almost 15 years, have been married to my amazing wife for almost 21 years, and have three beautiful daughters (ages 19, 17 and 16).

Since accepting Christ as my Savior 21 years ago, I have been passionate about helping people reduce and even remove the stress from their lives that can stem from personal finances and ultimately inhibit their walk with Christ. Facilitating Financial Peace classes provides a wonderful opportunity to get in front of a number of families and individuals simultaneously and have a significant impact.

Financial Peace University is a nine-week course taught by Dave Ramsey on video. A typical class session will spend the first hour watching the video and the next 30 minutes discussing the material in a small group environment.

+

Freedom Tools
A course for teens and adults to gain freedom in Christ

The Freedom Tools class provides a great introduction to freedom prayer ministry. Freedom Tools (Reese and Barnett) serves as the primary text for this class while additional resources are used to enhance discussion and practice. Participants will learn tools and practices that will lead them toward personal freedom while also preparing them to minister freedom to others.

This class will begin at 6:00 PM on Mondays.

Sessions begin Monday, September 9, 2019 at 6:00 PM

Facilitator: Emily Linge

ABOUT OUR FACILITATOR:
Hi, my name is Emily Linge. I am a long time member of Crossroads, and have served with my family overseas as a missionary in both Ukraine and Tajikistan. I have trained, studied, and practiced various tools for freedom prayer, and bring that experience into my leadership of the Freedom Tools Ministry here at Crossroads. I am also a physical therapist, wife, and mother of 3 wonderful kids.

+

Grief Share
When the loss of a loved one is all-consuming. Learning to breathe again.

You don't have to go through grief alone. Participate in Grief Share and you will gain resources to help recover from your loss and rebuild your life. Each session is Biblically based and will have these elements: A DVD video, a support group discussion and a workbook study. Materials for this study are available in the Crossroads Resource Center.

Facilitator: Danny & Karen Mitchell

We will be using the Grief Share workbook. These workbooks are $15. Your registration will help us with ordering.

Sessions begin Monday, September 9, 2019 at 6:30 PM

ABOUT OUR FACILITATOR
My name is Danny Mitchell. I have been facilitating our Griefshare program for seven years. I wish this group was available when I lost my nine-month-old daughter some 30+ years ago. Thankfully, I did have a Pastor/Counselor who took me under his wing and helped me through my journey of grief. I have felt called to help others as I have been helped during my darkest days. Since facilitating I have also lost my mother and now have an even deeper connection with those coming to our Grief Share group.

I currently work part-time at Old Navy and in Crossroads Christian Church Preschool and Elementary-age Crossroads Kids program.

+

Grieving The Loss of a Child
Finding support when you experience an unthinkable loss.

Hope In a place of darkness, strenghth in the time of pain, courage when feeling defeated, and joy despite our grief. This is how one survives on moment at a time. Sessions begin Monday, September 9 through December 9.

The book that will be used for this class is "The Unspeakable Loss" By Nisha Zenoff, and will be available for purchase at $10 the first night of classes.

Facilitator: Meek Owusu

I started this group because I'm looking for hope that I won't have this pain for the rest of my life and believe that I'm not the only one. My baby passed away on September 19, 2018. There's not a day I don't miss him and yearn to be with him. However, every morning I wake up and I'm still here and he is not. As a parent, God gives us this amazing love for our children all we want to do is take good care of them and protect them.
When unimaginable misfortune happens, a piece of us seems to die with them and we tend to replay what took place over and over again. We continually ask, "What could we have done differently to change the outcome?" Questions like these can drive us crazy and drive us deeper into darkness, closing us off from the world.
It has been nearly nine months since my baby boy left this world and there are days I still have where I just don't want to get up and keep fighting. Through it all, one thing that I know is God has me. He has surrounded me with people that love me, support me and pick me up out of the hole in which I've often found myself. I'm blessed to have that, but realize that's not the case for everyone. I'm starting this group so that people who've experienced the same hurt and pain can come together and be helpers of one another. We'll work together in hopes of once again finding joy despite of our tragedy.

+

Journey to Freedom
Your start to a lifetime of hope, health, and happiness.


We all long for areas of our life to change. We all have experienced some kind of brokenness in our lives. In this study we will walk through how to begin possible changes within us that need to occur for us to live in the freedom of Christ. We will learn how to contemplate change and write out a plan of action for the change(s) you feel God is wanting you to make. Second semester we will continue on to study Freedom from Low Self-Esteem and Fear. This is a great starting point if you are a broken person as I am
*This is a group for women only. The book being used is Journey to Freedom and will be available for $5 the first night of the session.

Facilitators: Debbie Nichols and Susan Bohrnstedt

Sessions begin Monday, September 9, 2019 at 6:30 PM

ABOUT OUR FACILITATOR

My name is Debbie Nichols. My husband and I have been a part of Crossroads since the Fall of 2013. We currently serve in the Welcome Center on Sunday mornings.

I currently work alongside my husband on our farm and in our crop insurance business. I also care for our three grandchildren several days each month.

I went through 'Journey to Freedom' study in 2006. I was on a mission team in Ukraine when the curriculum was first introduced. I have led this study 3-4 times and have a passion for those who are hurting and broken, as I am one. I believe we need to support and encourage one another through this journey of life God has given us.

I look forward to walking this journey with you.

+

Moms
Celebrating motherhood and sharing the everyday experiences that being a mother brings

Are you an expecting, new, or seasoned mom and in need of support? "Moms" will encourage, motivate, empower you and so much more. This class meets the 1st and 3rd Monday of each month. The devotion being used for this class is From Grouchy To Great: Finding Joy In The Journey Of Motherhood by Ruth Schwenk. To purchase the book click here.

Sessions begin Monday, September 9, 2019 at 6:30 PM

Facilitator: Takeska Peeple

ABOUT OUR FACILITATOR
My name is Takeska Peeple. I am a stay at home mom of school age boys. Being a stay at home mom from the start is how God gave me the vision for moms. I have a big heart as well as a strong desire to help moms stay encouraged and walk in everything God has for them.

+

Recovery
Seeking victory over addictions. Walking 12 steps with Jesus Christ

This Bible-based series addresses addictions of various forms and will set a course on how to overcome them. The material used for this group can be purchased at the link below.

purchase materials by clicking here

+

Understanding Faith
The next steps after you've made a decision to live for Jesus.

This group will use H2O, a practical 10-session DVD series by Kyle Idleman. H20 will introduce Jesus as He really is to those who need Him. Walk on this journey of faith with us.

Sessions begin Monday, September 9, 2019 at 6:30 PM

Facilitator: David Mayse

ABOUT OUR FACILITATOR:
Hi, my name is David Mayse. I have two grown children (Joe and Sophie), and one grandson, Leo. I teach economics and world history at Harrison High School. I am the assistant athletic director, as well as the minister for Harrison.

+

Veterans/Pointman
Coping as a soldier at home.

Christian veterans, who care deeply about other veterans and their struggles, lead this group. It is a place to talk, share and listen to others who have walked in these shoes.

Facilitator: Mike Burkdoll

ABOUT OUR FACILITATOR:
I'm Mike Burkdoll, leader of Point Man International Ministries of Newburgh and participant in Support Groups at Crossroads. Point Man is an International Faith-based organization in existence since 1983. I began the Newburgh "Outpost" about 9 years ago. Under the Point Man banner, we also operate "Home Front" for Veteran's families led by my wife Donna, and "Reboot Combat Recovery" led by Adam and Michelle Gamache, also members of Crossroads.

We accept any Veteran into Point Man, but our emphasis is on our Veterans who have been negatively affected by their combat experiences. Our board of directors is led by three members of Crossroads, Dr. Carl Linge, Dan Oates, and Bruce Siebers, and our other leaders are all strong Christian examples and have experienced life in a combat zone and are skilled at transitioning Veterans from combat to home using Christ as a bridge. We are involved in numerous community projects directed towards and supporting these Vets including substantial financial aid for homeless Veterans and serving as mentors for Veterans who find themselves entangled in our local court system (Judge Kiely's Vanderburgh County Veterans Court) among other projects.

Our mission statement (also available at pointmanofnewburgh.com) is:

Point Man ministries of Newburgh is a safe refuge where veterans, whether they left the military decades ago or have recently returned to civilian life, can turn for help. With support from our members who have "been there", hurting veterans can realize they are not alone. We serve as facilitators by connecting veterans with resources and support within the community.

We believe it is the responsibility of the community, not the government, to transition our warriors home. We offer spiritual healing as an interdenominational conduit to a stronger faith in Jesus Christ. We encourage members to serve others, thereby nurturing their own healing and self-worth.

+

Veteran's Family
Making our house a home again.

Homefront is a group of Christian mothers and wives of active duty military, family and veterans. We provide an understanding ear and caring heart that only those left at home can understand.

Facilitator: Donna Burkdoll

ABOUT OUR FACILITATOR:
Hello! I am Donna Burkdoll and I lead the group Home Front. My husband Mike and I have been members of Crossroads for almost 31 years, when Mike felt the call to start Point Man Ministries. I was on board to lead Home Front. Home Front is a group of ladies who are also wives, mothers, and widows of veterans. Our mission statement is one of understanding the lives of women that live with a veteran or a member that is deployed. We have a special bond that women who have had no involvement with the military would understand. We are a sisterhood, that strives to put Christ first in our lives and to lift each other up. We are so thankful for the opportunity to meet during Crossroad's Support Group sessions.

+

Veterans - Reboot
Reboot develops a spiritual pathway for each Veteran.

Facilitators: Adam & Michelle Gamache & James Callahan