We invite your entire family to join us this Christmas!

CHRISTMAS WORSHIP SERVICES
Saturday, December 24
2:00 PM, 4:00 PM & 6:00 PM
Sunday, December 25
10:00 AM, Chapel
Crossroads Newburgh Campus, 10800 Outer Lincoln Avenue, Newburgh, IN
TO JOIN US ONLINE - We will broadcast live from our Newburgh Campus at live.cccgo.com, on Facebook Live, and on YouTube.
---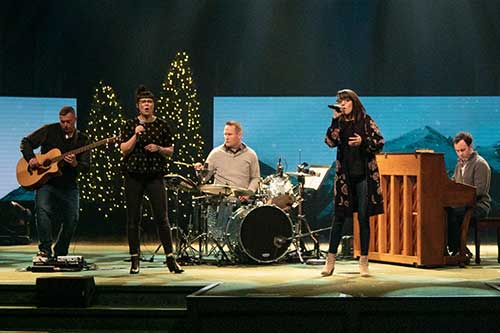 We invite your family to join us for a heartwarming celebration of the birth of Jesus, our Savior! Our Christmas celebration will take place on Christmas Eve, Saturday, December 24 with identical services at 2:00 PM. 4:00 PM and 6:00 PM and then, we'll have a special Chapel Christmas Service on Sunday, December 25 at 10:00 AM.
Plan to join us as we sing along and praise God with traditional and contemporary Christmas music.
Our services on Saturday, December 24 will be family-friendly for families with kids in grades 1-5. Programming is available for kids ages birth-kindergarten in our Crossroads Kids Nursery and Preschool.
On Sunday, December 25, children's programming will not be available.